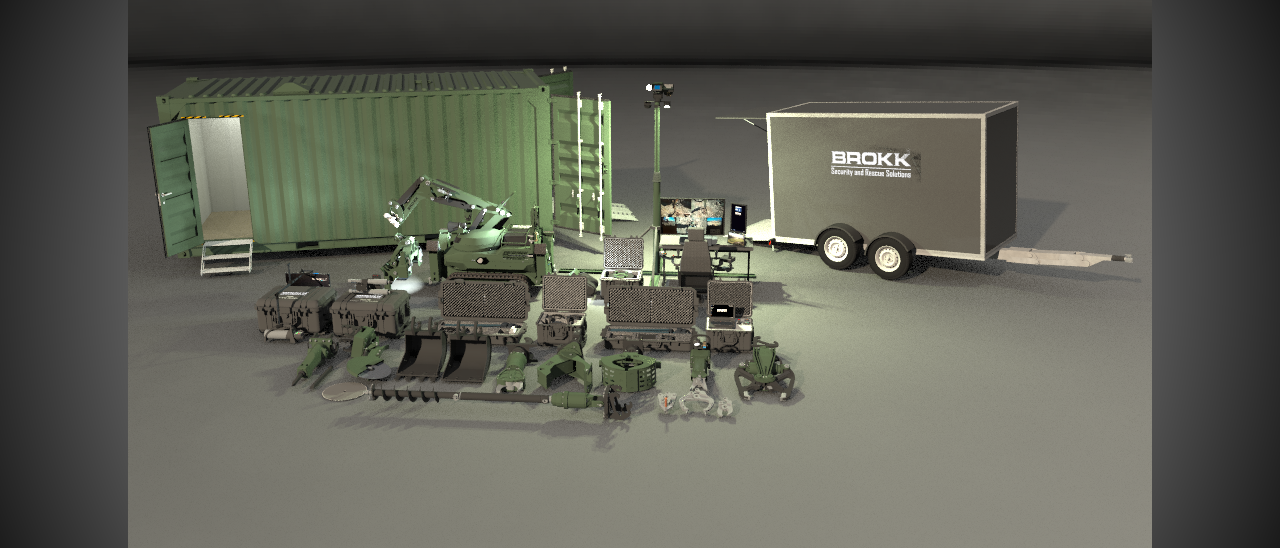 Unmanned Defence, Security and Rescue Solutions
OPTIONS and System Integration
Attachments are divided into EOD, Engineering and Rescue, but obviously many of the tools are relevant, or very relevant, also to the other segments or even other segments of users.
Examples of standard EOD/IED/UXO tools
The MX-Series can be supplied with all the standard tools expected by EOD and IED officers. The MD-Series can to some extent use the same or similar tools, but please consult your closest BSRS-Manager for details. Examples of tools below:
WCM – up to four new gen. long-range disruptors.
RFM – Ignition system with up to 8 firing channels
XRM – X-Ray system with flat detector
Rollers
Metal detectors
Holder for breaching and counter IED/UXO charges
Water cutting systems
Ground Penetrating Radar (GPR)
EDM – Earth drills
Force feedback (haptic) master/slave manipulators
Integrated and external sensor system such as radar and CBRNe detectors
Examples of standard Combat Engineering tools
From our background in dangerous environment such as decommissioning of nuclear facilities, mining, steel-mills and tunnelling, we obviously can support with standard tools like:
Breakers
Buckets
Steel sheers
Beam grapples
Picking grapples
Vegetation cutters
Grinders
Telescopic boom

Cutting torch
Crushers
Manipulator/Multi tool
Drilling (rock)
Drilling (earth)
Side angling
Sifting buckets
Cutting saw etc.
Example of standard Rescue tools
Suitable for Rescue and Disaster management, CBRN, Military, SWAT, Combat Engineering, firefighting and more…
Low/medium pressure firefighting
Ultra high-pressure firefighting
Evacuation fans
Heat resistant hydraulic hoses
Steel tracks
Steel pads
Other OPTIONS, Tools and System Integration
As options, tools and system integration is a unique feature of the SRS Family of robots and difficult to present in a complete way, we must stress that you may need to discuss these further with your BSRS-Manager. There is also a separate constantly updated brochure titled "BSRS OPTIONS and System Integration", that can give more information".
| | |
| --- | --- |
| platform options | Operator OPTIONS |
Attachment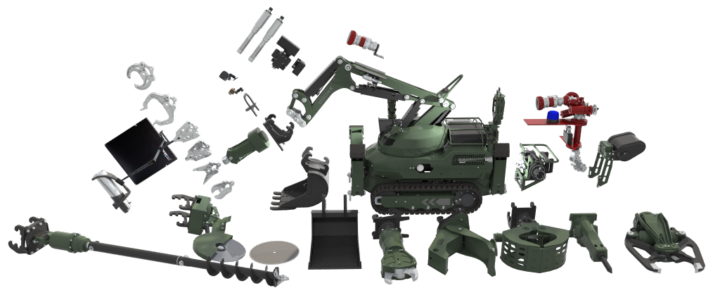 System Integration
tow Trailers

Containers and frames

| | |
| --- | --- |
| Vehicle and special integration | RTM – Remote Trolley Module |